Netspend corporation has taken over the prepaid debit card business with a storm. If you're also one of those who love Netspend, then you might be considering investing in more than just one Netspend card.
But can you have 2 Netspend cards?
You are allowed to open up a maximum of five Netspend accounts. After you sign up, Wait for the first Netspend prepaid card to arrive, and then sign up for the other 4 cards. However, the referral bonus only works on one Netspend Card – you can't get the referral for the other ones if you got on one.
Today we'll find out all about this and more. Everything you need to know about the difference between a Netspend account and a conventional bank account, along with all the minor technicalities, so you know exactly what you're getting into.
So without further ado, let's begin!
RELATED READ: How to Receive Money on Netspend Card? 6 Methods to Reload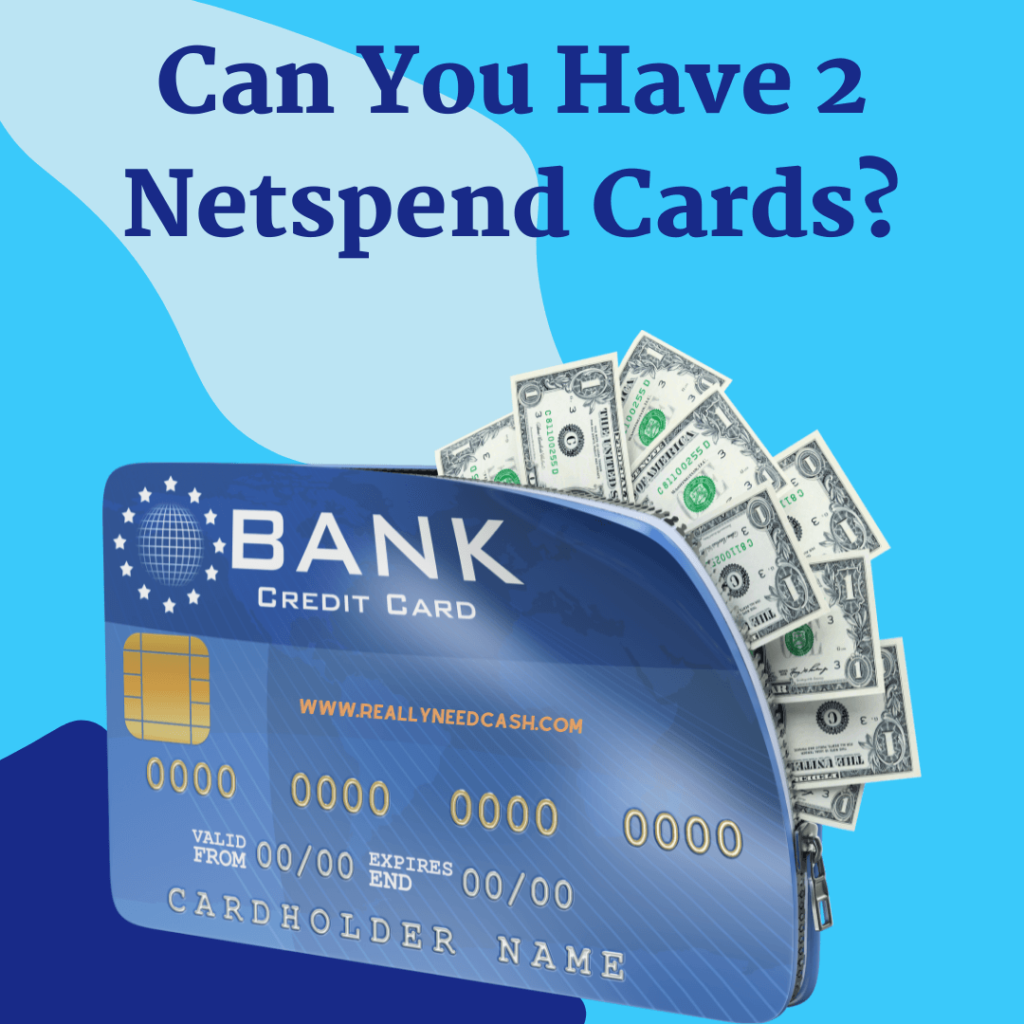 What is a Netspend Prepaid Debit Card?
A Netspend prepaid debit card is used to make purchases. You can use it for in-store purchases, online purchases, or ATM cash withdrawals. With the Netspend prepaid card, you'll never have to worry about financial difficulties or money management.
Use one card for all your transactions. Whether they are personal or business transactions, local or international transactions, transfer money anywhere and anytime using one card.
The Netspend prepaid debit card comes in two variants. You can choose to get a Netspend prepaid Mastercard or a Visa debit card.
How To Get a Netspend Prepaid Mastercard?
To get Netspend prepaid debit cards, you just need to follow a simple online procedure. It's a lot simpler than the steps you need to follow to open a regular bank account. Go to their website and click sign up.
Over here, you'll find an online form that you must fill out. Fill in your name, address, date of birth, and government ID number. Before submitting the form, make sure you have carefully read the cardholder agreement.
Once the form is filled and submitted, the system will conduct the identity verification required to activate your card. Finally, you will receive your card within ten business days after card activation and identity verification are done.
One of the best things about opening a Netspend account is that you don't need to have a minimum balance, nor will the company ask you for a credit check. In addition, you can now use their online account center and all the other perks offered by Netspend.
The Benefits of Having a Netspend Card
Owning a Netspend account has a lot of perks. Here's a list of a few of the benefits you can get from using Netspend.
Load Money and Stay Updated With Your Transactions
The Netspend Prepaid debit cards aren't one-time use cards. You can use them to make multiple transactions. All you need to do is recharge your card. The good news is that there's more than one way to do that as well.
1. Direct Deposit and Mobile Check Load
If you use direct deposit to recharge your card, you receive your paycheck two days earlier when compared to other ways. If you don't think that the direct deposit method suits you, you can choose the mobile check load option.
To use the mobile check load option, you need to install the Netspend mobile app. With the mobile app installed, go to the mobile check load option. Here you'll find all the necessary instructions you need. All you need to do is photograph your check and plug in your load details.
You'll have money in your account without having to stand in a queue.
2. Reload Locations and Send Money
The Netspend card can also be reloaded at your nearest convenience stores 0r gas stations. In addition, Netspend has partnered with large stores like 7-eleven and Walmart, so you get thousands of reload locations all over the country.
You can also reload your account balance by using account-to-account transfers. For this, you will need multiple Netspend accounts. You can use your own or ask your friends and relatives to transfer money to your card account.
Moneyback and Financial Benefits
You also get to earn something by using a Netspend card account. If you refer a friend, you and your friend get a chance at earning $20, given that your friend joins using the referral link and loads $40 into their account.
But that's not all. Netspend rewards you with exceptional personalized benefits and cashback whenever you use your card account.
Netspend even lets its users open a savings account. This savings account can be operated the same way you'd manage any other bank account. Keep some money saved in your account and keep earning interest over it.
It's just as simple as that.
Additional Perks
Did you know that Netspend has a zero liability policy! This means that even if someone uses your account for fraud, your transactions remain safe. At Netspend, your account safety is a top priority; this is why the company also allows you to make a virtual account number for online transactions.
But that's just not it. You can also get yourself custom cards. Of course, you have to pay a custom card fee.
However, the process is pretty straightforward. But if you still have any queries, the online custom card FAQs are more than helpful.
Here you'll find all you need to know about getting a new custom card or a replacement one.
Can You Get More Than One Netspend Card Account?
The simple answer to that is yes! For one card account, you are allowed up to six virtual accounts. Each account is subject to the same transaction fees and additional fees.
Just make sure you understand the cardholder agreement thoroughly before requesting any accounts.
Final Words
Netspend is a financial service provider and has gained rapid popularity. They're a safe and legal service since all required products are licensed under U.S patent nos 6,000,608.
With transactions insured via FDIC and card issuing controlled by major banks, the Netspend service can be the financial management tool you need.
With six Netpsend accounts, you can keep all your personal and business transactions separate. It's the same as categorizing your financial transactions into different groups. Now, you get to keep your work and personal lives apart, which is great for tax purposes.