Venmo is a P2P app to send money to friends and family. However, users occasionally wondered if it was possible to Venmo themselves.
Move money from your bank account to your Venmo balance or vice versa with just a few clicks.
Key Highlights
You will need 2 Venmo Accounts to Venmo yourself.
Venmo will block any attempts to send money to your own Venmo account.
You can set up a separate Venmo account and exchange Venmos between the two, but both accounts must be connected to different external bank accounts.
Creating a second Venmo account to transfer funds to yourself is highly discouraged and could result in both accounts being deleted.
Can You Venmo Yourself: Tutorials
Yes, you can Venmo yourself money: 1. Open the Venmo app 2. Link your bank account 3. Tap on the "Transfer Money" or "Withdraw" option 4. Choose your linked bank account 5. Enter amount 6. Confirm the transfer. The money will be moved from your Venmo balance to your bank account.
Alternatively, create two different Venmo accounts to send money to yourself with two other accounts and separate bank accounts.
| Method of Adding Money | Fee | Time Frame |
| --- | --- | --- |
| Transfer from bank account | $0.00 | 1-3 business days |
| Receive money from Venmo users | $0.00 | Instant |
| Receive merchant refund | $0.00 | Instant |
| Receive money using Direct Deposit | $0.00 | Up to 2 business days |
| Cash a check (payroll or government) | 1.00% (min. $5 fee) | Within minutes |
| Cash a check (all other accepted check types) | 5.00% (min. $5 fee) | Within minutes |
| Receive payments for goods and services | 1.9% + $0.10 | Instant |
However, it is important to note that Venmo may place restrictions or limitations on the number of funds you are able to transfer for security reasons and/or in order to avoid potential fraud or misuse of the system.
Alternatively, you can deposit your money back into your checking/bank account with a transfer option. It would take 2-3 business days to complete.
It is also a great feature if you share a joint bank account with your colleague or family member.
This is mostly because it has simplified all money-related activities, allowing you to complete all your transactions simply through your phone.
Moreover, since it's easy to use and incurs no fees for its services (except in some circumstances), it's become really popular among all people.
As in, can you use the app to pay or send money to yourself? We'll answer all these questions below, so keep reading to find out.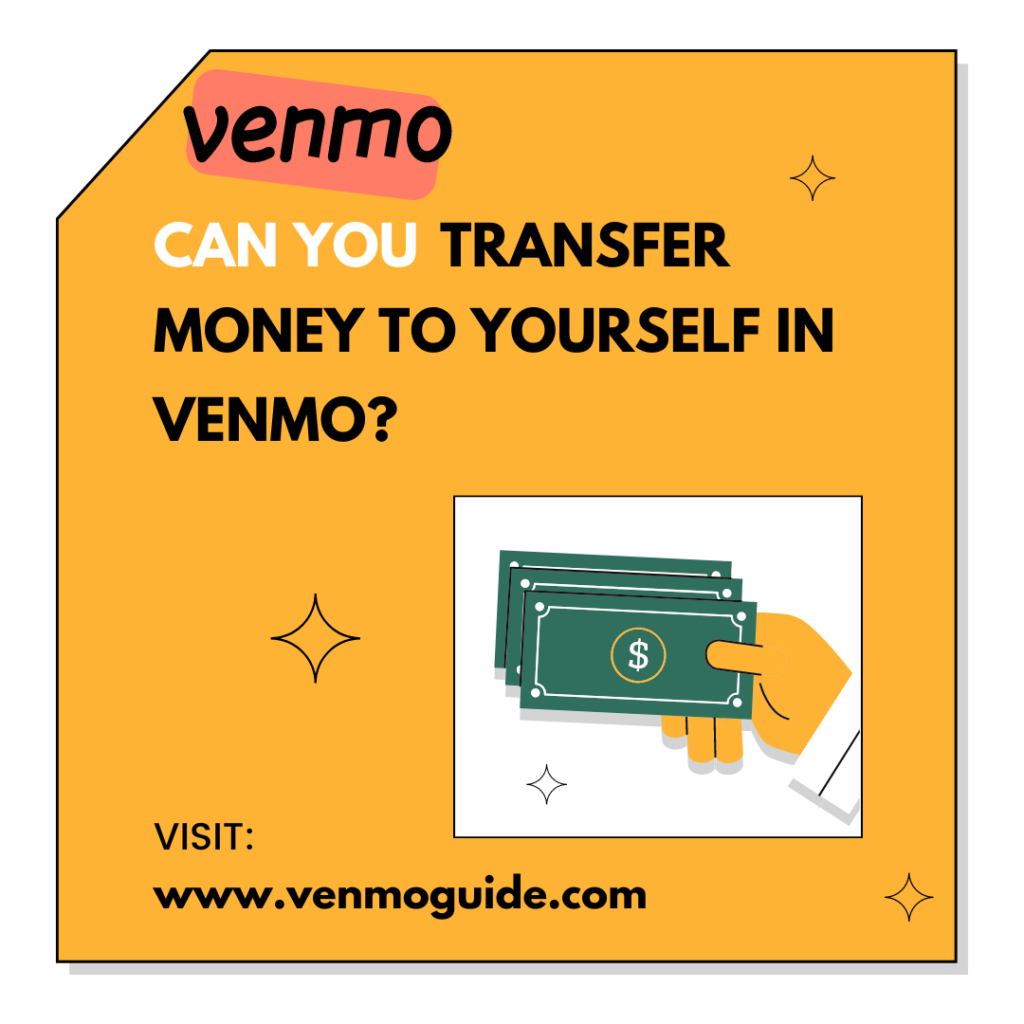 Can You Pay Yourself on Venmo?
Yes, you can Venmo yourself by creating two Venmo accounts with a different bank account or even the same bank account.
Or maybe you can ask a colleague or family member to receive the money from you and then send it over.
To better understand, It depends on what you mean by this. First, you must understand that Venmo was created for the purpose of moving money between two different accounts.
Now, since Venmo doesn't allow a person to have more than one account at a time, ultimately, this renders you unable to pay yourself on Venmo, be any payment method you prefer.
However, if Venmo has approved you to have a Venmo Card, you can deposit money from your bank account into your Venmo Balance, and you can then use this money to make payments. This process could be interpreted as paying yourself on Venmo; however, others may not think so.
Read: Can I Venmo Myself Money From a Credit Card?
Can You Send Money to Yourself on Venmo by Using Two of Your Payment Methods?
That's another no. Again, Venmo wasn't made with this intention in mind. It's simply used for monetary exchange between different individuals. Accordingly, you can't use Venmo to move money between your various payment methods, i.e. transferring money from your credit card to your bank account.
Read: Can I Set Up Recurring Payments with Venmo?
Can You Venmo Yourself From One Account to Another?
In theory, if you have two Venmo accounts, each with its own US bank account and phone number, you can technically use Venmo to move your money between the two accounts. However, in practice, that's not really a good idea. Why? You may ask.
Well, that's because Venmo doesn't allow its users to have more than one Venmo account. If or when the company finds out that more than one account is linked to the same person, it'll automatically ban both accounts.
As such, we strongly recommend that you don't create two Venmo accounts to avoid this problem. However, if you decide to take your chances, well, you're at your own risk.
Generally, the best course of action would be to pay a trusted friend or family member with money from your first account and have them Venmo you the same amount to your account. Once you receive the money, you can then transfer that amount into your other bank account, and ta-da, you've now completed the transfer.
Can Two Separate Venmo Users Add the Same Bank Account?
You've already discovered that a single user can't have more than one account, whether he decided to open them using the same bank account or different ones. However, what about those instances when two separate individuals share a bank account?
Thankfully, Venmo allows the use of the same bank account to create separate Venmo accounts, as long as the number of opened accounts doesn't exceed two and the users are, of course, different.
Basically, when the second user creates a Venmo account using the joint bank account, the first user will get a notification informing him of this. Then the two accounts will be linked, meaning that if the shared bank account becomes invalid for some reason on one account, the other user will also be unable to utilize it.
Nevertheless, if you've been notified that a new account was opened using your bank details (bank account or debit card) and you don't know who this person is, contact Venmo at once to protect your money and resolve the issue.
FAQs
Can You Use Venmo to Send Money to Your Paypal Account?
Even though Venmo is a subsidiary of PayPal, the two services don't offer any features by which you can move money between them.
However, you can get around this issue by linking both accounts to the same bank account. Once you do this, you can now withdraw funds from your Venmo account into your bank account, then deposit those funds into your PayPal account by clicking on Add Money.
How Do You Add Money to Your Venmo Balance?
Provided you own a Venmo Card, you can transfer money from a verified bank account to your Venmo Balance by:
Clicking on the three parallel horizontal lines (≡), then click Manage Balance.
Put in the amount you want to add.
Click Done.
Review the bank information, then click Next.
Click Add Money and wait for the funds to arrive.
How Can You Transfer Money into Your Bank Account?
Click the three horizontal lines icon (≡).
Click Transfer to Bank/Transfer Money (you may also need to click in Manage Balance first, then Transfer to Bank, depending on your phone type).
Type in the amount you wish to send, choose between Standard and Instant Transfer, review the information, then click on Transfer.
Conclusion
Nowadays, many people must've come across the phrase "I'll Venmo you" at least once in their life. Whether you're using Venmo to pay for your share of the bill or you're using it to purchase something, Venmo has become integral in how we exchange money.
To sum up, you can't really Venmo yourself. While you can deposit funds into your Venmo Balance from your bank account, you can't actually transfer money from your credit card into your account nor use two Venmo accounts to pay yourself.
Now, it's true you can create two Venmo accounts for this purpose; however, the repercussions aren't worth it as you'll be banned from using both of them if you're caught. So, to be on the safe side, it'd be much better to employ a trusted friend to help you transfer money between your two bank accounts.