Can you buy an Amazon gift card with Venmo? If so, how do you go about it? Continue reading to find out.
Yes, You can use a Venmo Debit Card to buy an Amazon gift card with Venmo, but not directly via your Venmo account. To add your Venmo Card to Amazon – Go to Payment options in your Amazon, Click Add a credit or debit card listed under Add a New Payment Method and Follow the on-screen instructions.
There's no doubt that buying an Amazon gift card for a friend or family member is a great purchase. Not only do these cards have no expiration date, but their owners are guaranteed to find something they like among the millions of products that Amazon and its affiliates offer.
Now, if you're an avid Venmo user, you've probably wondered if you could use the app to buy an Amazon gift card.
Sadly, that's not possible. As you may have heard, Amazon doesn't accept payments from Venmo, or its mother company, PayPal.
This is mostly due to the ongoing rivalry between Amazon and eBay, where Amazon sees eBay as its direct competitor. Now, since PayPal has a good relationship with eBay, Amazon refuses payments from PayPal, and, by association, Venmo.
So, is there no hope? Is it impossible to buy an Amazon gift card using Venmo? Keep reading, and you'll find out.
RELATED READ: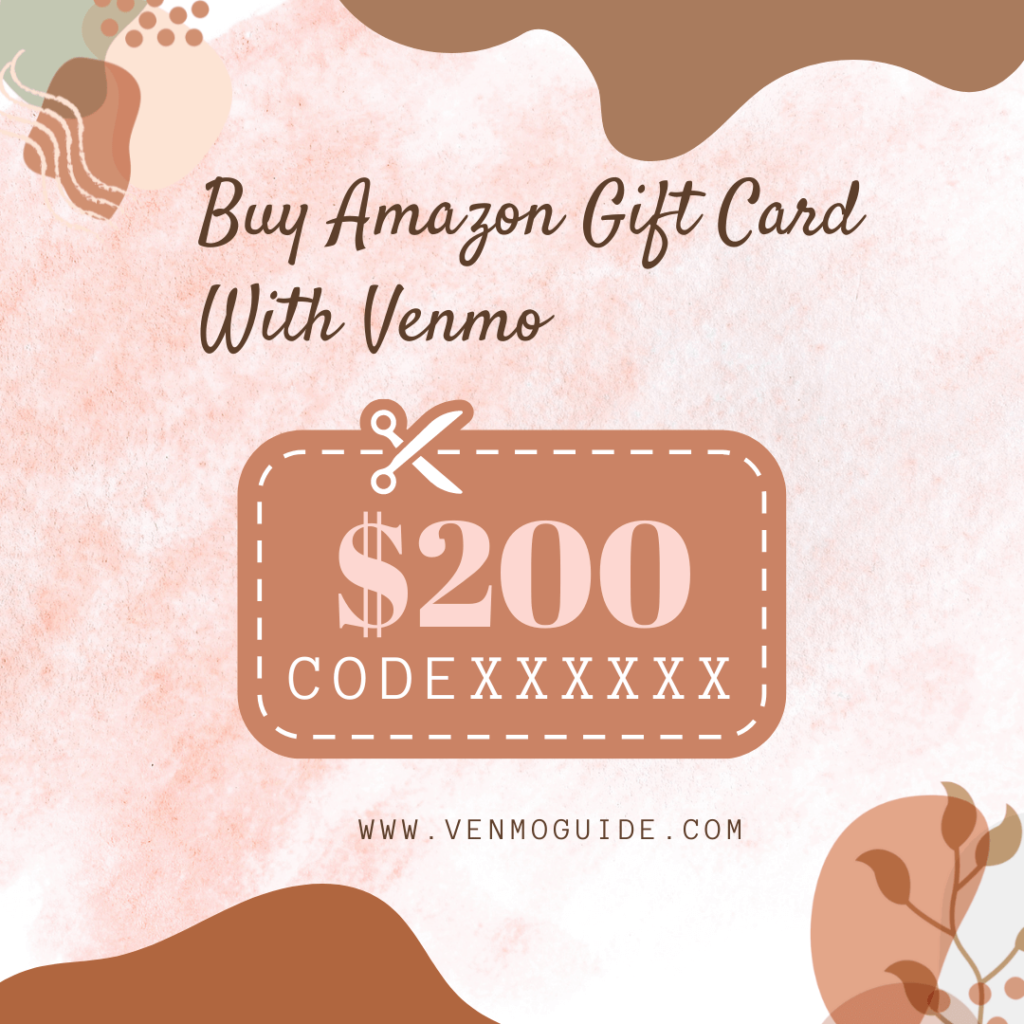 So, Can You Buy an Amazon Gift Card Using Venmo?
Users can buy Amazon gift card with Venmo but not directly. As we mentioned, you can't buy an Amazon gift card from Amazon using your Venmo account. However, you can have Venmo issue you a Venmo debit card, with which you'll be able to obtain your Amazon gift card. 
Thankfully, you can acquire your Venmo debit card for free, and all you have to do to get it is apply for it on Venmo. Still, remember that you should first verify your Venmo account, or else your Venmo debit card application will be declined.
First Off, Where Can You Find Amazon Gift Cards?
Most often, you'll find Amazon gift cards, physical or otherwise, sold on the Amazon website. However, you can also find Amazon gift cards sold at participating retail stores like 7-Eleven, Walgreens, Whole Foods Market, and so many others. There, you'll find cards that range in value from $15 all the way up to $100.
Moreover, you can find Amazon eGift cards sold at websites like eGifters and others, which presents an excellent option for those who aren't a fan of buying and paying for things in-store. Now, we already know that Amazon doesn't accept Venmo payments, but what about these stores and websites?
Unfortunately, only a few accept direct Venmo payments. However, there are certain ways you can get around this issue, but we'll discuss it later.
Read: Can you Decline a Payment on Venmo?
How to Buy an Amazon Gift Card Using Venmo
1. In Stores
To buy an Amazon gift card using Venmo, you have two options. The first is to find a store that sells the cards and accepts direct Venmo payments like CVS, but this option is very limiting.
The other method entails applying for a Venmo debit card and using it in the stores that sell amazon gift cards and accept Mastercard. Fortunately, you can also use this card to buy Amazon gift cards from the actual Amazon website.
Tap on the "Cards" tab (in the old version of Venmo, choose the ☰ icon).
Select "Venmo Card".
Tap on "Get The Venmo Card".
Choose the color you want for your card.
Enter your first and last names, as well as your date of birth and the last four digits of your security number.
Read the terms and conditions, and then choose "Next".
Enter your shipping address.
Select what you want to happen to your card if it ever has a low balance, and then select "Next".
Review all your information, click "Submit", and verify your information, and you'll have yourself a Venmo debit card in 5-7 business days.
Read: How to Activate my Venmo Card?
2. From Websites
For now, the only website that we could find that sells Amazon gift cards and accepts Venmo is eGifter.com. However, you have to understand that Venmo is only available on the website, not the eGifter mobile app.
As such, you have to open a browser on your phone like Safari for iOS users or Chrome for Android users to purchase an Amazon gift card. Now, to include your Venmo account as a payment option on this website, you should:
Verify your identity on Venmo.
Choose a preferred payment method.
Configure your settings.
Open your browser and make an eGifter account.
Log in to that account and select the cards you want.
Click on the "Pay with Venmo" button on the checkout page.
Note: Paying with Venmo won't work if you access the eGifter website through a PC. You also have to enter the same name and email in your Venmo/Paypal account and make sure that your PayPal One Touch isn't activated.
FAQs
Can You Buy from Amazon Using Venmo?
As we previously mentioned, that's not possible. The only way you can get around this is to use a Venmo debit card to pay for your purchases on Amazon, as it functions just like a Mastercard does.
Can You Buy Amazon Gift Cards from Walmart Using Venmo?
While Walmart does accept direct Venmo payments, both online and in-store, it, unfortunately, doesn't sell Amazon gift cards for the time being. That's mainly attributed to the fact that Walmart sees Amazon as a rival, and as such, it makes sure not to sell anything affiliated with their competitor, gift cards included.
What Are Some Stores That Sell Amazon Gift Cards?
You can find Amazon gift cards at Krogers, Whole Foods Market, CVS, Lowes, Kohl's, Family Dollar, Walgreens, USPS, Staples, and many more.
Read: List of Online Stores that Accept Venmo
Conclusion
Buying an Amazon gift card with Venmo is possible, but it's not as straightforward as logging in to your Amazon account and choosing Venmo as your payment method. Instead, you have to either use a Venmo debit card to make your purchase or look for stores and websites that sell Amazon gift cards and also accept Venmo payments.
Whichever method you prefer, just make sure to follow the steps we've mentioned, and you'll hopefully be able to get that gift card in time for your occasion.