The Netspend prepaid debit card is among the country's most trusted prepaid cards. With over 10 million customers under its wing Netspend, prepaid debit cards are among the country's favorites.
If you're thinking of joining the Netspend network, it's definitely wise to have an in-depth knowledge of the transaction fee you'll be paying.
So, What are the NetSpend Card fees?
NetSpend Card Fees include $9.95 if you get it at one of their retail locations and if you opt for Fast-track delivery, you'll be paying $20 if you choose 3-day delivery or $25 for 1-2 days delivery. An average fee of $1.50 will be charged for every purchase with an ATM withdrawals fee.
This article covers all the details of the Netspend card fees customers may encounter. There are also different payment plans that the company offers. But before you get overwhelmed, we have all the answers for you.
Here's all you need to know about Netspend fees before signing up for the service.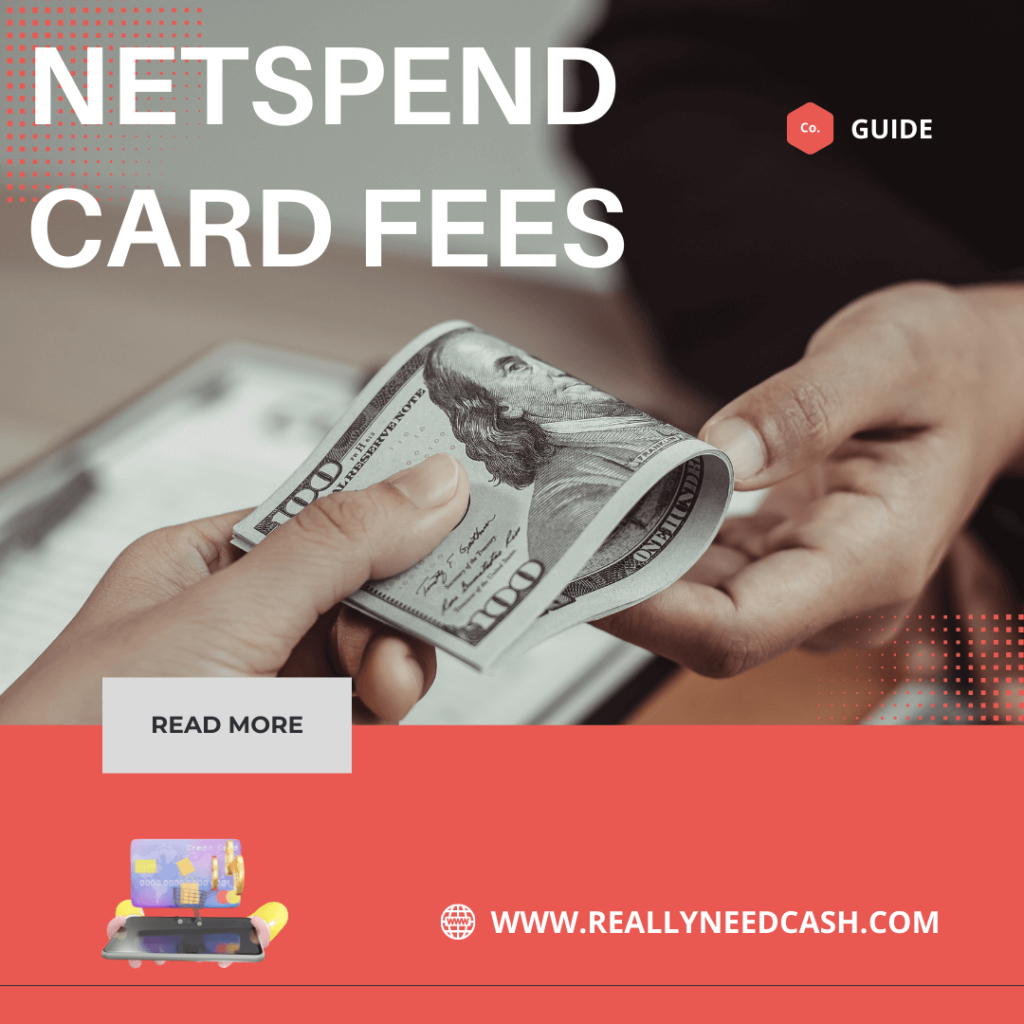 What Is a Netspend Prepaid Debit Card?
Like other prepaid cards, the Netspend card is used to make purchases. However, it is a debit card, so you can only use the money you put in it. And unlike credit cards, you can't borrow money, build credit, or improve your credit scores.
Other than that, you can use your Netspend card anywhere you would use a Mastercard or a visa card. Whether it is to pay bills, pay for online purchases, purchases in stores, or for withdrawing money.
Feel free to use your card at any place that will accept prepaid cards.
How Much Does It Cost To Get Netspend Prepaid Debit Cards?
The good news is that Netspend doesn't charge you an activation fee. You can create a Netspend card account online and free of cost. You don't need to meet any minimum balance requirements. Nor do you need to go through a credit check. All you need to do is follow these instructions.
Go to Netspend's website and click on sign up. Here you'll have to fill in your name, address, date of birth, and government ID number. After the system conducts the necessary identity verification, you will receive your activated card within ten business days.
Now you can load money into your account and manage your money via the Netspend online account center. And the good news is that Netspend charges only a minimum reload fee, from $0 to $3.95.
What Is The Netspend Visa Prepaid Card And Netspend Prepaid Mastercard Transaction Fee?
Much like a bank account, some changes come with prepaid cards. Here are all the fees you can expect to pay with the Netspend Visa prepaid card.
1. Activation Fee
The good news is that Netspend doesn't ask you to pay even a penny when you sign up for their services. The card activation is entirely free of charge. However, they can charge you up to $9.95 if you get it at one of their retail locations.
Of course, the corporation does start charging you once you start using their services. You can also expect to pay the company as soon as you order your card. If you opt for Fast-track delivery, you'll be paying $20 if you choose 3-day delivery or $25 for 1-2 days delivery.
2. Purchase Transaction Fees
An average fee of $1.50 will be charged to a user for every purchase they make via Netspend. If you choose to pay a fixed monthly fee, you won't have to pay this fee.
3. ATM Fees
Regardless of whether you choose to pay a monthly fee or pay with every transaction, there are a few fees you'll still have to pay. For example, you'll have to pay a $2.50 fee on ATM withdrawals. There's also a $0.50 ATM inquiry fee you can expect to pay.
4. Other Fees
You have to pay a withdrawal fee of $3 if you withdraw cash from a financial institution. If you withdraw from a Netspend reload, this fee can be higher among 2.75% of the total transaction or $4. Similarly, you will be charged 4% of the total amount if you want to make a foreign transaction.
If you decide to recharge your account with a mobile check load, the service will charge you higher than 5% of the total amount or a total of $5. If your ATM transaction is declined or payment gets declined, you should expect to pay $1.
In case you want to request a card replacement. There's a separate fee for that as well. You will be paying a replacement card fee of $9.95. In case you want to order a custom card. Then you'll have to pay a custom card fee of $4.95. If your card remains inactive for over 90 days, you also have to pay an inactivity fee of $5.95.
Keeping all of these fees into perspective, it's evident that Netspend is a relatively expensive investment. However, the ease of money management and the other perks of the service and the Netspend mobile app are entirely worth it.
Netspend Payment Plans
Depending on the number of transactions you make, on average, you can choose from any of the following plans for your prepaid card.
1. Pay-As-You-Go Plan
If you have the Netspend Visa prepaid card, you get to choose to pay with every transaction you make. If you make less than seven transactions using your Netspend account, this plan suits you best. No monthly commitment is required if you choose to pay-as-you-go.
2. Monthly Plan
With the monthly plan, you can transfer money to and from your card account without having to pay every time. Forget the hassle of spending every time you make a purchase transaction. This plan is ideal for anyone who makes over seven purchase transactions.
Conclusion
If you decide to open a Netspend account and intend to use the card, you will have to pay some Netspend card fees.
However, with the liberty to recharge your card account balance, make a free direct deposit, and other benefits like creating a savings account, cashback, and payback rewards, Netspend is a worthy investment.
What's best is that with Netspend, you can manage your finances from your mobile phone.
Subscribe to their rewards program, view your transaction history, or carry out a purchase transaction. Have your money management tool handy at all times.