Venmo NSF Fee item Returned are fees charged for an NSF returned item when you attempt to pay for something that costs more than the funds available in your checking account. "NSF" is an abbreviation and stands for nonsufficient funds.
Do you want to find out what the Venmo NSF fee item returned means? Check out this article to find out and understand how you can deal with it and avoid it!
What's worse than finding out the funds in your Venmo balance aren't sufficient to cover a transaction? That might be incurring a Venmo NSF fee item returned penalty when your backup payment method also comes up short.
Venmo NSF Returned item fees are what your linked bank charges you for returning insufficient funds in an attempted transaction. They happen as follows:
You try to pay using your Venmo balance.
Venmo triggers the backup payment method linked to your account.
The funds there are insufficient.
Your bank charges you an NSF returned item fee.
In this article, we go over what NSF returned item fees are and how they're incurred when you make purchases using Venmo.
You'll also want to stick around to find out precautions you can take to avoid incurring them in the future and whether or not Venmo charges you this fee.
READ: How to Verify Venmo Without SSN?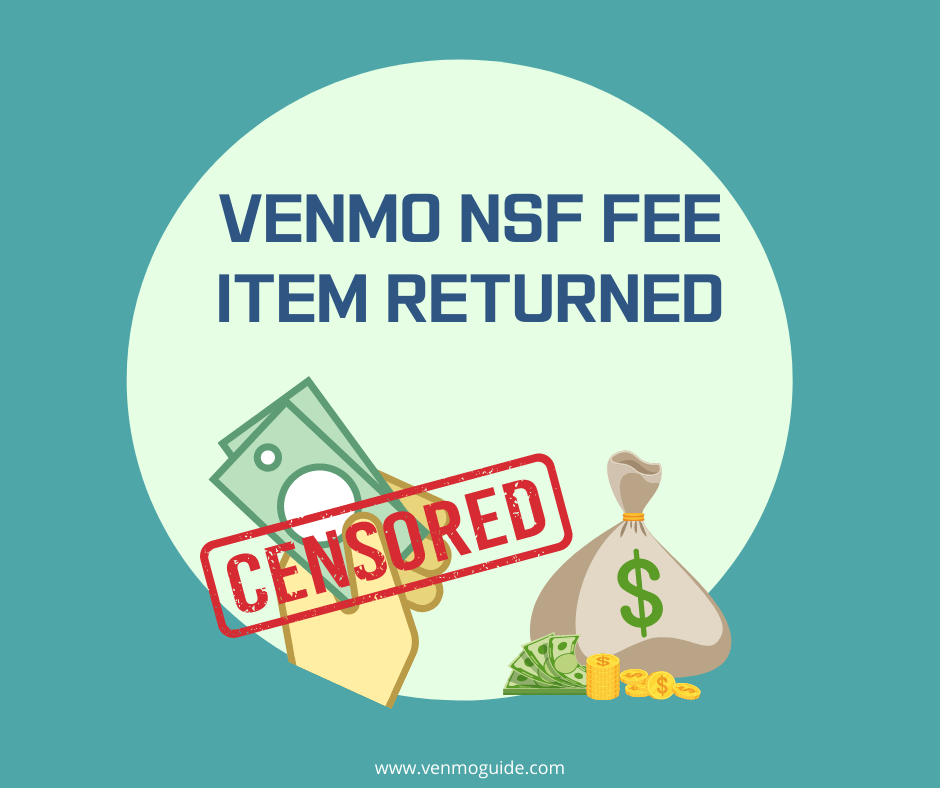 What Are Venmo NSF Returned Item Fees?
In general, you're charged an NSF returned item fee when you attempt to pay for something that costs more than the funds available in your checking account. "NSF" is an abbreviation and stands for nonsufficient funds.
Additionally, "Returned Item" refers to the amount of money you've attempted to use to complete the transaction. Essentially, the bank charges you a "Returned Item" fee for having to return the funds into your account.
Tip: If you have a Venmo Debit Card, disabling reloads can save you some declined transactions and third-party overdraft fees.
It's worth noting that you're more likely to be charged this fee when you don't have overdraft protection. With overdraft protection, the amount of money needed to make up the full amount is either loaned to you by the bank or drawn from your savings account.
Depending on what US state you're in, the NSF Fee may range between $27 and $35. It's usually fixed, and this can prove costly if the product or service you've tried to pay for with insufficient funds costs less than that fee.
Backup Payment Methods
Venmo allows account-holders to send and receive money and pay merchants using the funds in their Venmo balance. But more than that, it also lets them link a backup payment method to their account. Usually, this method is either a bank account or debit or credit card.
Most of the time, people link their backup payment to their Venmo account to fund their account themselves. That way, they're able to pay with their Venmo balance easily.
Alternatively, Venmo backup payment methods act like fallback funds when the account-holder's Venmo balance isn't sufficient to cover the transaction amount during a purchase.
So, for example, if you try to pay for something that costs more than the funds available in your Venmo balance, the backup payment method linked to your account will fund the transaction instead.
Does Venmo Charge NSF Returned Item Fees?
As mentioned, an insufficient Venmo balance means that the backup payment method linked to the Venmo account will pick up the tab.
When an account holder tries to pay for something that costs more than the funds they have in their backup payment method, that's when they risk incurring a returned item fee. In other words, this fee has very little to do with the fact that the user's Venmo balance is low.
It's essential to keep in mind that NSF fees aren't part of the fees charged by Venmo. Instead, they're charged by your bank.
Avoiding NSF Item Returned Fees
NSF Item Returned fees don't have to be an inevitable cost of shopping with a Venmo account. To avoid incurring them, you can do one of the following things:
Keep Track of Your Money
Keeping track of your money is one of the most effective ways to avoid financial pain in all its forms. Therefore, your first port of call should be making sure your Venmo balance or backup payment methods contain enough funds to service a transaction.
To check your Venmo balance, you need to:
Open the Venmo app
Select the single person icon to open the "You" tab
Locate your balance at the top of your personal transaction feed.
Also, if you regularly balance your accounts, you'll be less likely to initiate a transaction using a bank account that's low on funds.
Opt-in for Overdraft Protection
You can spare yourself the trouble of incurring NSF returned item fees by opting in for overdraft protection at your bank. This way, your bank can loan you the difference if the funds in that account aren't sufficient.
However, it's best not to rely on this service too frequently. Doing so puts you at risk of being reported to ChexSystems or other debit bureaus.
Link to a Backup Account
You could also link the account used as a backup payment method on your Venmo account to a savings account so that money can be drawn from them if the funds in your checking account are insufficient.
Even though you'll incur an overdraft fee by doing this, it'll most likely be lower than the NSF fee, which can be expensive when the botched purchase merely costs a couple of dollars.
Final Thoughts
Nonsufficient funds returned item fees on Venmo transactions can be an unpleasant surprise.
When your backup payment method doesn't have sufficient funds to complete the Venmo transaction, your bank has to return money to your account. So, it charges you fees.
However, these fees are entirely avoidable if you take the necessary measures, such as keeping track of your available funds, opting-in for overdraft protection, and having a backup account to your backup payment method.