Is your Venmo payment not showing up in your bank account? Keep reading this post to discover why it isn't showing and how to resolve the issue.
Reasons why Venmo Payment not showing up in your Bank Account include – You haven't transferred money to your Bank account, Standard deposit rather than Instant deposit, Venmo and your Bank servers are having issues and Venmo may have flagged your Payment.
You can contact Venmo directly to solve the issue.
Venmo is one of the most convenient ways to send money and make payments for millions of users. But there are times when your Venmo payment might not appear in your bank account. Is Venmo payment not showing up in your bank account?
There are several reasons this may happen; they include incorrect transfers to your bank, technical issues with Venmo or your bank's servers, using a standard deposit when you should use an instant deposit, or a flagged payment by Venmo.
In this post, we'll explore the reasons for this problem and what you should do to solve it.
Read: Is Venmo Safe for Buyers?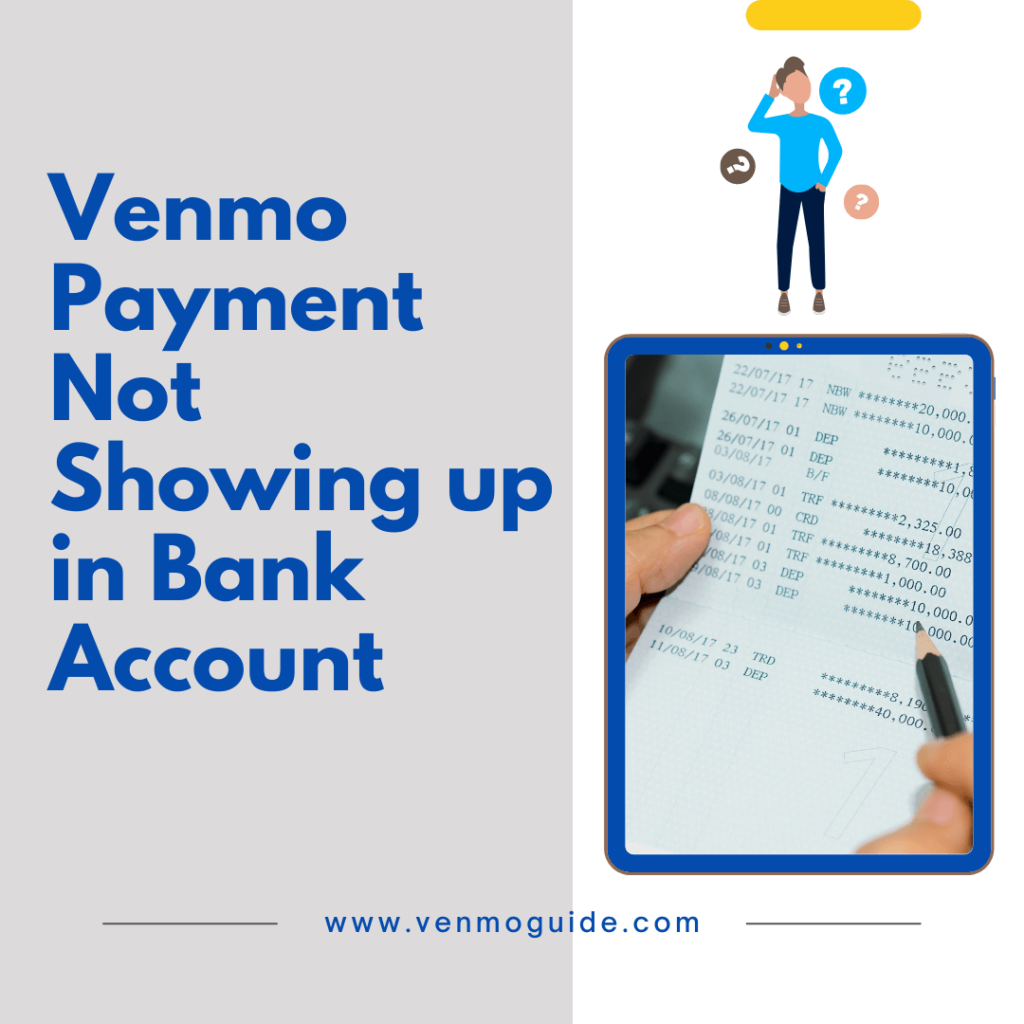 Reasons a Venmo Payment Might Not Appear in Your Bank Account
We'll tell you why Venmo might flag your payment, how to transfer funds properly, how instant transfers differ from standard deposits, and more.
1. Venmo Flagged Your Transaction
Like every other mobile payment platform, Venmo can be used by scammers. So, if Venmo's security system picks up on a suspicious transaction, it might flag it. When a payment is flagged, it won't be delivered to the destination account.
Even if your payment isn't illegal, Venmo might flag it by mistake. If this happens, Venmo will refund the money to your account.
2. You Haven't Moved Funds Into Your Account
This might be the case, especially if you're a new Venmo user. The funds aren't automatically transferred to your bank account when a user sends you money on Venmo. Instead, you have to move your funds from your Venmo balance to the bank.
If you don't move them, your funds will remain in your Venmo wallet. To move your cash from Venmo to the bank, you can follow these easy steps:
If you aren't automatically logged in to your account, open the app on your device, and log in with your correct details.
Click on the menu button (three dots icon) located on the upper right corner of the home screen.
A drop-down menu will automatically appear. Select "'Manage Balance" from the drop-down menu.
Click on 'Transfer to Bank' from the pop-up menu.
Enter the amount of money you want to transfer from Venmo to your bank.
Choose the bank account you wish to transfer the money to. If you've got more than one bank or card linked to your Venmo app, make sure you choose the correct one.
Click on the green transfer button, and your funds will be sent from Venmo to your account.
3. Venmo or Bank Servers Are Having Issues
Venmo is used by over 70 million users, with thousands or even millions of transactions happening in real-time. As a result, Venmo app servers could experience technical issues. If Venmo servers are down, this could be a good reason your Venmo payment isn't appearing in your bank.
However, if Venmo servers aren't down, your bank servers may be the problem. If your bank servers are experiencing any issues, they could delay your payment showing up. So, wait until the servers are back up and running.
4. You Didn't Use Instant Deposit
You can send cash from Venmo using a standard deposit or instant deposit.
On the one hand, If you send money via standard deposit, it'll take about 2 or 3 days or a week to move the funds to your bank. The standard deposit option is free to use, but you'll have to wait for your funds to appear in the bank.
On the other hand, as the name suggests, an instant deposit takes less time, and your funds will most likely reach your account in 30 minutes. Unlike the standard deposit, the instant deposit requires you to pay 1.5% of every transfer as a fee.
What Are the Steps to Take if Venmo Payment Does Not Pop up in My Bank Account?
If a Venmo payment isn't appearing in your bank account, know that this is quite common, so there's no need to panic. Instead, troubleshoot the problem to find if it's something you did or not.
If it's, you know what to do. But if it's Venmo or your bank's problem, here's who you can contact to help:
Venmo's Team
If your transfer problem hasn't been resolved in a couple of days, you might want to contact Venmo. The support team has ample experience with handling such issues and will assist you better in resolving the problem.
You can reach out to Venmo via their social media handles or use the contact option on the app. To chat with the support team via the Venmo app, all you have to do is follow these easy steps:
Go to "Menu."
Select "Get Help."
Select "Contact Us" from the pop-up menu.
Click on "Chat with Us."
Your Bank's Support
If you've reached out to Venmo and they can't resolve the issue or the problem isn't on Venmo's end, you should reach out to your financial services provider. You can look up your bank's support contact information on its website or visit your bank in person to make the process faster.
Bottom Line
Overall, If you're worried that your payment isn't appearing in your bank account, it might be that Venmo has flagged the transaction as a suspicious action.
But if it was wrong to do that, Venmo will refund you shortly. Also, ensure that you've taken action to transfer the funds from Venmo to your account because these transfers aren't automatic.
And consider if you've chosen instant or standard transfers, as the latter can hold up the transaction.
If it isn't either of those, the problem is probably Venmo or your bank's servers failing, which should be up eventually, and you'll have your funds in no time.