Best Buy has always been a haven for technology fans and lovers, and with the increase in online shopping in recent years.
Many of Best Buy's customers have started to wonder if it's possible to use Venmo to pay for their purchases.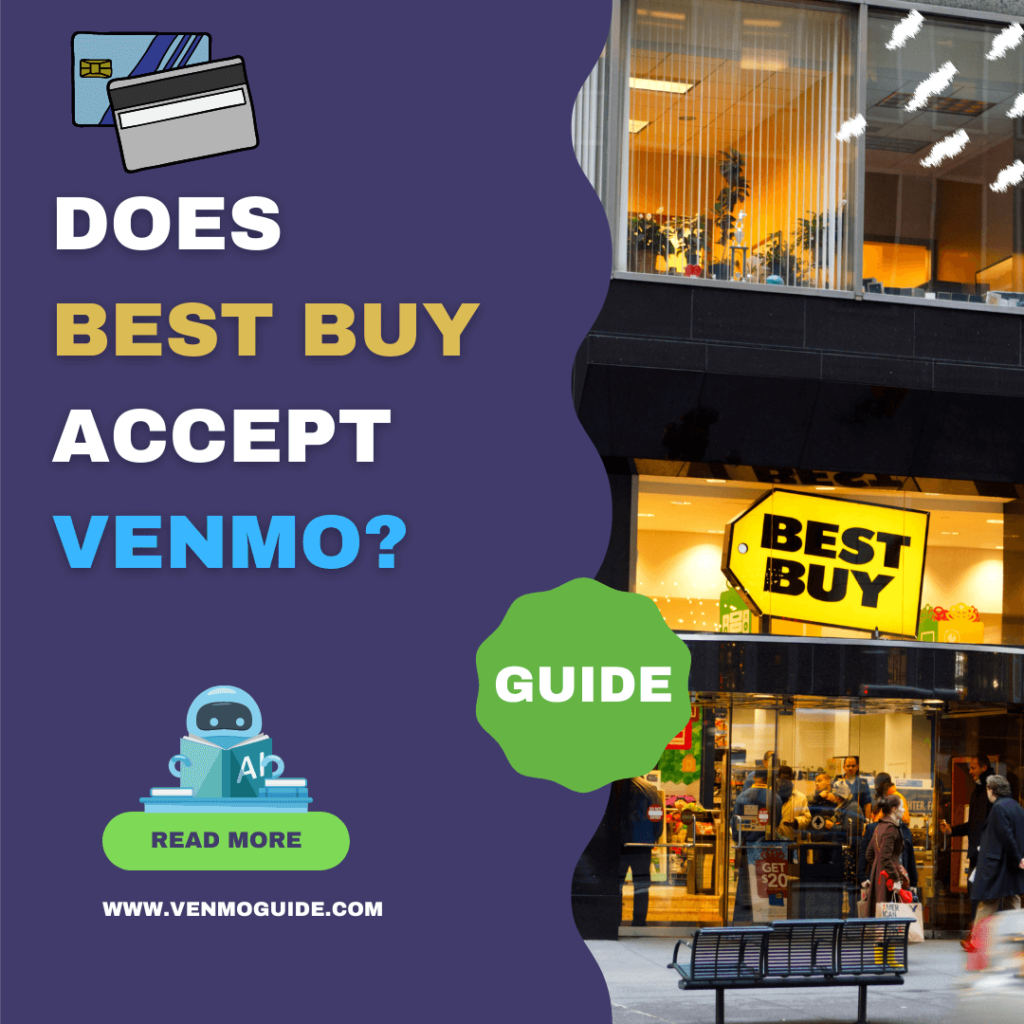 Does Best Buy Accept Venmo?
No, Best Buy does not accept Venmo Payments directly. Best Buy takes Venmo Debit Cards for making purchases. You can use Venmo Card in-store at Best Buy, on the Best Buy website, and in the Best Buy App.
Read on for how exactly to do this.
What Payment Methods Does Best Buy Accept?
Best Buy accepts various payment methods, the most recognizable of which are American Express, Mastercard, Visa, Paypal, and, of course, hard cash. They also accept Discover and JCB, as well as Best Buy-specific gift cards and credit cards.
As long as you don't use more than one card for your online purchases or combine PayPal with a credit/debit card, you can use any of the aforementioned methods to make a purchase at Best Buy.
Now, if you look at the options listed, you'll find that Venmo isn't one of the choices, but PayPal, the mother company of Venmo, is. So does that mean that you can use Venmo within Best Buy or not?
Read: Does Doordash Take Venmo?
Does Best Buy Accept Direct Venmo Payments?
Unfortunately, that's a negative. While it makes sense to assume that Best Buy will approve Venmo payments because it accepts PayPal, that's actually not the case.
Best Buy, similar to many other stores and services like Amazon, Sephora, Lowe's, and Target, will not accept any purchases made with Venmo.
While this piece of news isn't all that welcome to Venmo lovers, know that there's a way that you can still use Venmo to pay for your Best Buy purchases that we'll discuss later on. But for now, know that direct Venmo payments aren't possible at Best Buy.
Is There a Way You Can Use Venmo at Best Buy?
Well, yes, but not directly. The only way you can buy merchandise from Best Buy, whether online or in-store, is to use a Venmo debit card. This card operates on the Mastercard network and allows you to use the funds in your Venmo balance to buy things.
Now, since Best Buy has no problem accepting purchases made with a Mastercard, you can successfully use the Venmo debit card on the Best Buy website or within any Best Buy store. All you have to do is make sure the funds in your Venmo card are sufficient to cover your purchase, and you'll be good to go.
Read: How to Buy Steam Gift Card With Venmo?
How to Get and Use a Venmo Debit Card
Thankfully, you can easily acquire a Venmo debit card free of charge. All you have to do is:
Open the app.
Click on the "Cards" tab.
Select "Get Venmo Debit Card."
Choose the color you'd like your card to have.
Enter your personal information.
Tap on "Next" after reviewing the terms and conditions.
Enter your shipping address.
Choose what should happen if your card becomes low on funds.
Select "Submit" after you review and verify your information, and you're done.
If everything checks out, you'll be getting your brand new Venmo debit card in 5-7 business days. Then, once you activate it, you'll be able to use it within any Best Buy store.
Just keep in mind that you may get a "Get in Line" message that means it's currently not possible to apply for a Venmo debit card. However, once your turn comes, you'll get a notification on your email, and then you can start your card application process.
What Should You Do If the Funds in Your Venmo Balance Don't Cover Your Purchase?
If you ever come across such a problem, all you need to do is simply add more funds to your Venmo balance. Generally, you can do this in one of two ways.
The first is to do it directly by transferring some funds from your bank account to your Venmo balance. You do so by opening the Venmo app, going to the "You" tab. Then, you should select "Add or Transfer" and proceed to enter the amount you wish to transfer.
Once you've confirmed the bank account from which you'll be making your transfer, you should tap on "Add Money," and the funds will reach your balance within 3-5 business days. As you can see, this option will only work if you can wait a while before ordering something. However, what do you do if you need an instant solution?
This brings us to the second option, which is enabling the reload function for your Venmo debit card. This feature adds funds from your bank account to your balance in increments of $10 until your balance finally has enough money to cover the purchase.
To use this feature, simply go to the Venmo debit card section under the "Cards" tab and enable it. However, some Venmo users may not have access to this feature, in which case they'll have to go with the first option.
FAQs
What Are Some Stores and Services That Accept Venmo?
While they aren't all that many, there are still some well-known businesses that accept Venmo like Abercrombie & Fitch, Foot Locker, Poshmark, Lululemon, Uber, Uber Eats, Grubhub, and Gametime.
Can You Use Venmo From a Computer?
Sadly, no. You need to open a business's site on a mobile browser like Chrome or Safari or use its app to find a "Pay with Venmo" button. Still, keep in mind that this button may not appear directly; i.e., you may first have to click on the PayPal button, which will then bring you to the Venmo one if that business accepts Venmo as a payment method.
Conclusion
As of yet, Best Buy doesn't accept Venmo as a payment method.
However, you can sign up for a Venmo debit card and use the funds within your Venmo balance to pay for your purchases as this card works on the Mastercard network, and Best Buy accepts Mastercard, no problem.