Since its establishment in 2009, Venmo has become integrated into the money-sharing culture of the USA until it made the use of cash for peer-to-peer transactions almost obsolete.
Is it possible to schedule Venmo payments? And find out the 3 alternatives for setting up recurring payments.
No, you cannot set up a recurring payment on Venmo at the moment. For every transaction through Venmo, you need to open the app and see the payment from start to finish, i.e., specifying the recipient and the amount to be sent, doing a credential check, etc.
Now, if you've been using Venmo for some time, you may have occasionally wondered whether it's possible to set up recurring payments on Venmo for your routine expenses.
Let's be honest. It can easily slip anyone's mind the date by which they have to make a specific payment.
Moreover, it can be quite vexing having to do the credential checks every time you need to make a payment, especially among people you trust.
That's why many Venmo users have started seeking the recurring payments option.
However, can you even set up recurring Venmo payments? Keep reading to find out.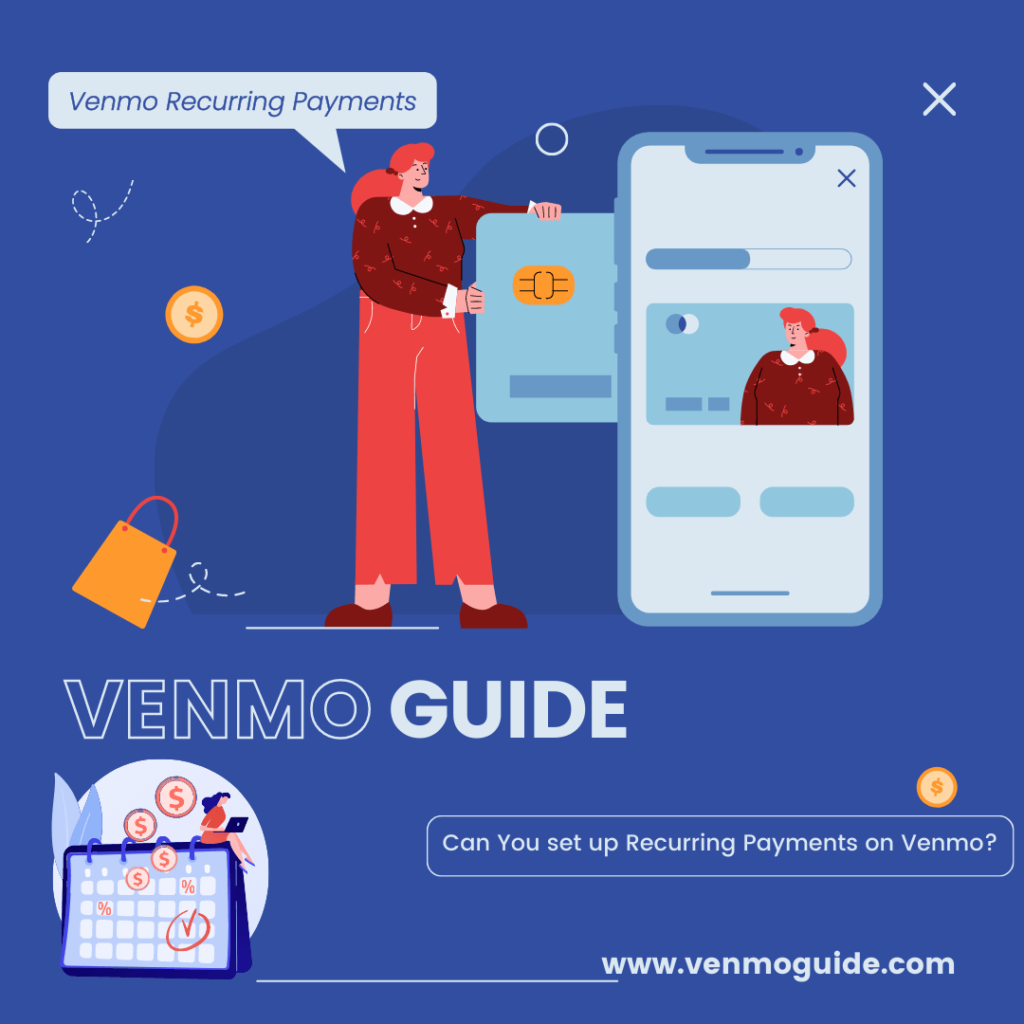 What Are Recurring Payments? And Why Do People Need This Service?
In short, recurring payments, also known as recurrent billings, are when you allow someone, a bank, or a business to regularly and automatically deduct a certain amount of money from your bank account.
Since this service eliminates the hassle of constantly remembering how much money to send, as well as where, when, and to whom you should send the money, it has become very popular among people who have to make periodic payments to certain parties by a specific date.
So, whether you need to pay for a Netflix subscription, pay your share of the rent, or send money to support your family members and help with their expenses, recurrent payments are the way to go as they will take one more thing you have to do off your list.
Can You Set Up Recurring Payments on Venmo?
Unfortunately, Venmo doesn't offer a recurring payment option at the moment. You need to manually pay for each transaction monthly if you need to subscribe to a particular product or service.
A recurring payment is quite helpful to pay EMI, charges for monthly subscriptions, and installments on time.
Read: How Do I Add Money to my Venmo Account?
Can You Schedule Payments on Venmo?
No, Venmo doesn't allow Scheduling payments, be it a one-time thing or a recurrent thing.
As such, Venmo doesn't allow you to schedule a payment's due date, meaning you have to open the app on the day of the payment and proceed as you normally would.
If I Can't Set up Recurring Payments on Venmo, What Other Option Can Make Regular Payments Easier?
While there aren't any ways you can set up a recurring payment on Venmo, there is a feature that can make your payments progress much faster and smoother, called the "trust" feature.
With this feature, you can choose specific people that you trust when it comes to money matters (family, friends, etc.). Once you do this, you'll be able to eliminate the arduous process of asking and waiting for credentials that come with every transaction.
Accordingly, using Venmo becomes much quicker, and this makes your life easier as you don't have to deal with the same people over and over again from A-Z.
What Other Money-Sharing Apps Allow Recurring Payments?
If you're an avid Venmo user, but you can't do without the recurring payments feature, we've put together a list of other services that function in the same way as Venmo but still have recurring payments available.
1. Cash App
Cash app is another widely used service that allows its users to transfer and share money through their phones.
However, unlike Venmo, it enables you to set up recurring payments on Cash App to help pay your installments and subscriptions on time without nuisances or delays. Then, once you're done with your payments, or if you no longer want to use this feature, you can disable it without too much trouble.
2. Wise
Wise, formerly known as TransferWise, is another service that allows scheduled transfers and automated/recurring payments as long as your account has the amount you'll be sending out.
Generally, once you've specified date for your payment, the service will send the money to the selected person on that day. However, the recipient may not receive the money the same day it was sent, so keep this in mind.
The transaction may also fail for several reasons, such as insufficient funds, lacking information, or utterly incorrect recipient details. So, make sure to double-check those details and remember that the service won't stop sending out the money until you expressly cancel the scheduled payment.
3. PayPal
Now, even though Venmo, a subsidiary of PayPal, doesn't offer automatic payments, PayPal does. However, PayPal doesn't allow non-business-account users to set up recurring payments.
It only enables businesses to establish and manage automated payments for their products and services in return for a small processing fee with every transaction, provided they have a business account. So, if you'd like to know how to establish a subscription plan/recurring payment for your customers, simply follow the steps on this page, and you're good to go.
You can set up recurring payments on Paypal even if you are outside of the US and can be used internationally.
Conclusion: Recurring Venmo Payment
Recurring payments on Venmo aren't possible at all. You simply can't set up recurring Venmo payments because this feature doesn't exist on Venmo.
As such, you can't automatically pay your subscriptions, rent, or whatever it is when the day of the payment comes. Instead, you have to access the app on said day, provided you don't forget, and proceed with the normal, albeit lengthy, payment procedure.
Still, you can significantly shorten this procedure by using the trust feature among certain trusted friends and family. Moreover, you can use other apps and services similar to Venmo for your recurring payments, such as Cash App, PayPal, and Wise.
In general, if you need to regularly make fixed payments to a merchant or a friend, then use Cash App or Wise. You can also use PayPal to create a subscription plan for your customers as long as you have a business account.