In this digital age, using a digital payment platform isn't a luxury anymore. A digital wallet service like Venmo makes sending and receiving money as simple as a tap on your phone's screen, making your payments and finances simpler and more convenient.
You might be wondering now, can I use an Amex gift card on Venmo? 
You can use Amex Gift Card on Venmo as it allows users to use credit, debit, and prepaid cards. Venmo is compatible with branded network cards, like Amex, Discover, Visa, and Mastercard, as long as the cards are registered under the same name used for the Venmo account.
In this article, we'll explain how to use your Amex gift card on Venmo.
We will also give you some of the best card alternatives to use on your Venmo account.
RELATED READ: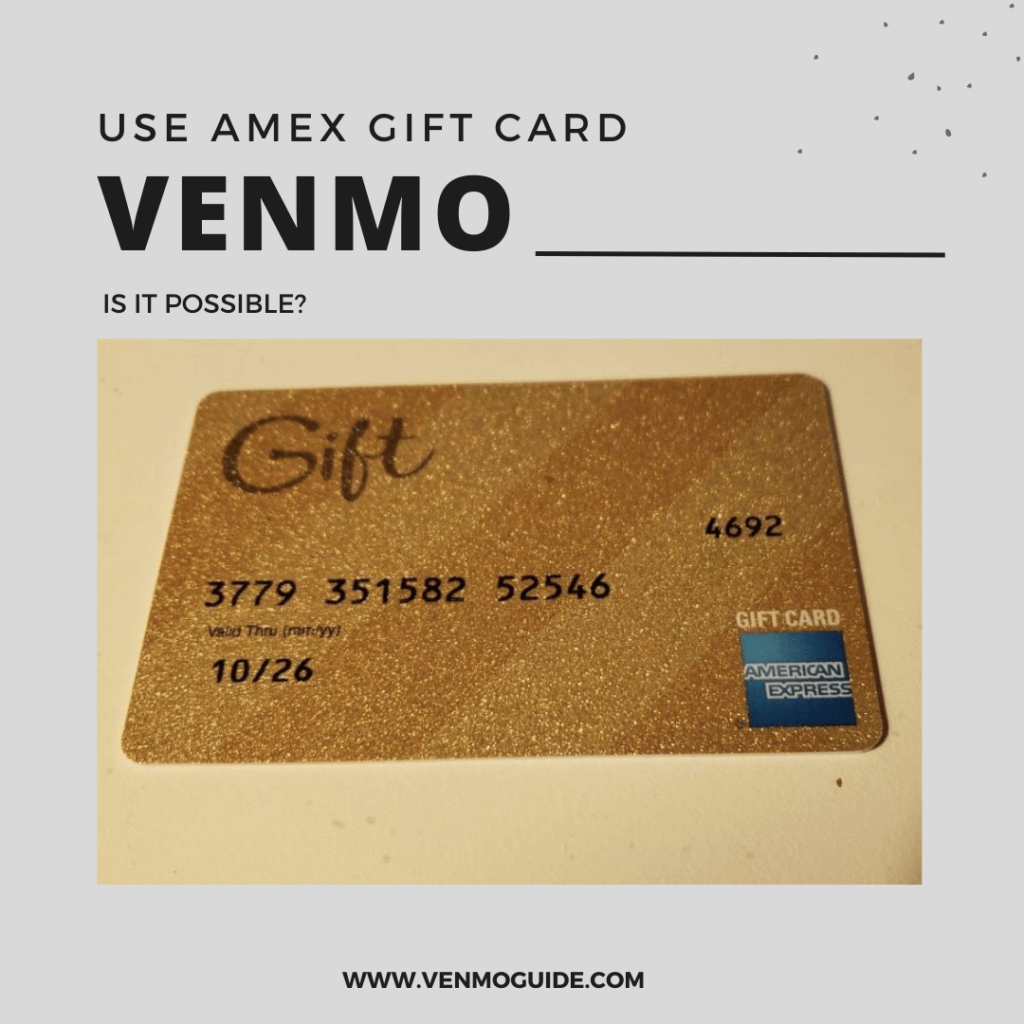 Can I Use an American Express Gift Card on Venmo?
Yes, you can use an American Express (Amex) gift card on Venmo. 
Gift cards are prepaid cards with a certain amount of funds that can be redeemed. They can either be connected to a bank account or not. Gift cards are also usually one-time use cards only.
How to Use an Amex Gift Card on Venmo?
To add an Amex gift card to your Venmo account, follow the following steps:
Launch the Venmo app
Tap on the "You" tab with the single person icon to open the menu
Tap on the "Settings" tab with the gear icon
Tap on the "Payment Methods" tab with the bank icon from the list of options
Tap on "Add a Bank or Card"
Choose the "Card" option
Enter the gift card info, like the 16 digit number and the expiry date
Once you have successfully added the Amex gift card, it will appear under "Payment Methods" usually as a Prepaid Card.
Is It Safe to Use My Cards With Venmo?
Yes, it's generally safe to use your cards with Venmo. As a part of Paypal's large family of brands, Venmo is a highly trusted platform with reliable security.
On Venmo, all your financial data is encrypted. This ensures that in case of an interception of any of your transactions by cyber thieves, your data is useless to them.
If you lose your phone or notice any unwarranted access to your account, you can unlink or disable your account from another device until your issue is resolved.
Despite all the security measures taken by Venmo, you should always be cautious about who you share your financial details with. Here are some security precautions to keep in mind:
Always choose a long and unique password that's hard to break to protect your account. You could also use multi-factor authentication to provide extra protection for your account using a randomly generated pin code.
You should always be monitoring all devices linked with your account to be wary of any suspicious activity.
Venmo doesn't offer buyer/seller protection, so you should be wary of to who you send funds. Also, avoid transactions with strangers as much as possible, or you may end up losing money.
What Are Some Alternatives to Amex Gift Cards?
Apart from gift cards, Venmo accepts a variety of different funding options, like credit cards, debit cards, ATM cards, and bank accounts.
You can also use these linked funding options to send money to other Venmo users directly and without needing to have the money available on your Venmo account.
Venmo also provides its own card, the Venmo Mastercard Debit Card. Using this card, you can easily transfer funds from either a savings or checking bank account to your Venmo account by simply using the app.
Here's how to do so:
Launch the Venmo app
Tap on "Manage Balance"
Enter the amount of fund you wish to transfer to your Venmo account
Choose the type of bank account you wish to transfer funds from, whether savings or checking account
Make sure that your transaction details are correct, then tap "Add Money"
Another great alternative is Venmo's Cash a Check Service. This feature allows you to deposit checks into your Venmo account by simply taking front and back pictures of your check.
However, to use this feature you need to have a Venmo card or you need to have carried out a direct deposit before.
Also, it's important to note approving a check transfer on Venmo can take up to an hour or more. Once the check is approved, you'll be notified by Venmo. Once notified, you'll need to write "VOID" on the front of your check, take a picture and then submit it to Venmo to complete the transaction.
One last thing to note is that there's a limit of $5000 per day or $15,000 per month on check deposits on Venmo.
What May Cause Your Cards To Be Rejected?
There are several reasons why your cards may be rejected by Venmo.
Firstly, if the card you're trying to use is registered under another person's name, you will not be able to connect it to your Venmo account. The card you're trying to register must be under the same name as the Venmo account.
Secondly, according to the Venmo website, your card may be declined by either your service provider or by Venmo itself for two reasons: fraud prevention or fund unavailability.
It's also important to note that you may need to provide your zip code in order to link some prepaid cards.
Conclusion
Venmo is one of the large family of brands under Paypal and is one of the biggest digital wallet services on the market.
Users of Venmo could use credit cards, debit cards, prepaid cards, or even bank accounts to transfer funds to their Venmo accounts. Any of these digital payment options could then be used to make transactions.
One of the most popular prepaid card choices in the United States is American Express gift cards, also known as Amex gift cards.
Venmo allows for these gift cards to be easily redeemed on its app. This enables users to add their funds to their Venmo wallets to be used for purchases or money transfers.