Venmo is a person-to-person payment app used to make payments or send money to people. It has become a popular way for people to pay back friends for things like dinner, drinks, or rent on the spot.
Although it's a great way for people to send money quickly and securely to friends, family, and business partners, Venmo raises questions about privacy concerns like, "Can people see your name on Venmo?
Can they see your transactions and the amount of money each payment?"
This article will tell you all the information needed to make your Venmo experience more private.
RELATED READ: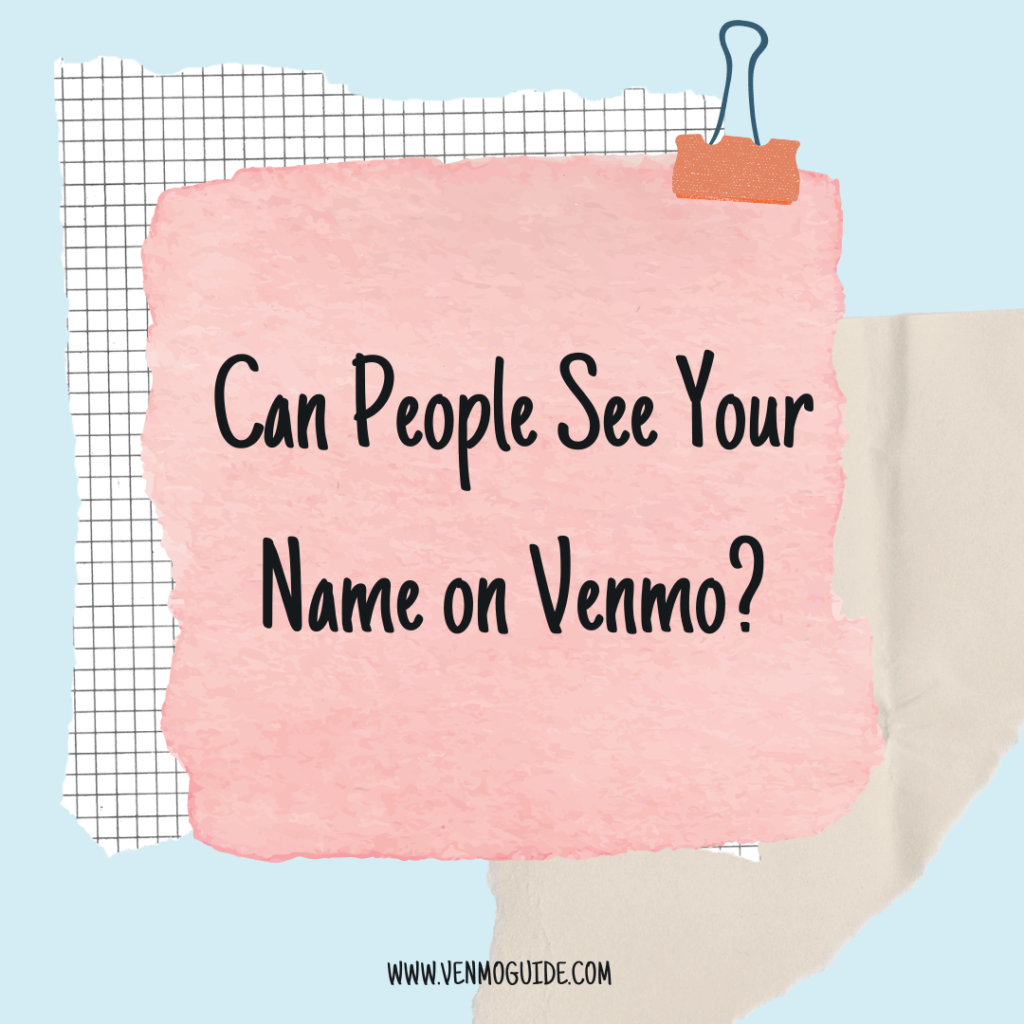 Does Venmo Show Your Real Name?
Yes, Venmo is public by default and will show your real name like social media for online payment. This means that everyone can see your transactions, the recipient, the timestamp, and any comments you've made.
The only private thing is the amount of money sent in the transaction. 
However, you can set your account to Private where only you and the recipient will see the transaction and appear only in the personal transaction feed.
What Information Does Venmo Require From Users?
Venmo collects some personal information for you to open an account; this includes:
Your name.
Street address.
An American phone number (note that the phone number can't be linked to another Venmo account).
A valid e-mail address.
Your social security number to verify your identity.
Venmo may also collect other information such as your IP address, the type of mobile device or computer you have, and your Geolocation.
You can check their privacy policy to know all the information they collect so you can use their services.
Why Does Venmo Collect Personal Information?
Venmo collects personal information and will ask you to verify your identity to prevent any fraud, illegal acts, or risks to your account.
Can You Use a Fake Name on Venmo?
You can't use a fake name when signing up for Venmo because you may be asked to verify your legal name with documentation.
That being said, you don't have to use your legal name as your username in Venmo.
Can You Use a Fake Email Address to Sign Up for Venmo?
Venmo requires a valid e-mail address or phone number to receive any transactions, meaning you can't use a disposable e-mail address to sign up for Venmo.
Can You Send Money Anonymously on Venmo?
No, you can't pay someone anonymously on Venmo. Your name will appear to the recipient of your payment.
How to Change Your Venmo Username?
Venmo doesn't show the name you used when signing up for the app; it shows your username. So, make sure to create a username that is easily recognizable by your friends.
You can always edit your username, and to do so:
Open the Venmo app.
Click on the "You" tab, the single person icon on the upper right corner.
Tap on "Settings," then "Preferences."
Select "Account."
Tap on "Profile" and edit your username.
There isn't a limit on how many times you can change your username, and it's completely free. Just make sure that your username is between 5 to 30 characters.
What Are the Privacy Settings in Venmo?
Venmo has three privacy settings concerning transactions which are:
Public: Anyone on the internet—even if they don't use the app—will see all the transactions shared on your public feed.
Friends Only: This will show the transactions to your Venmo friend list and their friends as well.
Private: You and the payment recipient will see the transaction. It'll appear only in the personal transaction feed.
No matter which of the three privacy settings you pick, only the sender can access information about the payment method used, i.e. bank account, credit, or debit card number.
How to Hide Your Venmo Transactions?
You can change your account's privacy settings to private for all future transactions, or you can customize the privacy setting for each payment.
To change your privacy settings:
Open the Venmo app and click on the menu button in the upper left corner.
Tap on "Settings" in the menu, then choose "Privacy."
Select "Private" to make it your default privacy setting.
A confirmation message will appear telling you that you can change transaction privacy individually (Unless you're fine with modifying the privacy settings each time you make a payment); click "Change Anyway."
A remarkable feature of Venmo is that when you make a payment to someone with public privacy settings, the transaction follows the more private settings between the two of you.
So even if your friends have everything on display, your transaction will remain confidential.
How to Hide Your Past Payments in Venmo?
To change the privacy settings of all your past transactions:
Click on the menu button and tap on "Settings."
Tap "Privacy" and then "Past Transactions."
Choose " Change All to private."
It's important to know that this action is permanent, and you can't change your past payments back to the public. Also, any private payments in the past will remain private even if you change the settings to friends or public.
Do You Have to Link a Bank Account to Use Venmo?
No, you can create a Venmo account without linking a bank account, but there isn't much you'll be able to use the app for if you don't have a bank account connected.
If you want to transfer or receive money from Venmo, you need to link your account to a bank account.
If you don't have or want to link your bank account, you can connect it to a credit or a debit card, but this option has a 3% fee for each payment.
Connecting your Venmo account to other payment methods enables you to make payments that exceed the amount in your Venmo balance.
To Sum It Up
If you're wondering, "Can people see your name on Venmo?' The answer is yes. However, this doesn't make it any less safe to use.
If you don't want your name revealed to the public, you can simply choose a username different from your legal name.
What's more, you can hide all your transactions or limit them to friends only so you can enjoy a more private user experience.