There are a few potential reasons why you may be getting the Venmo error: "There was an issue with your payment." It could be anything from insufficient funds to a bad data connection to non-responsive Venmo servers. Luckily, each of these potential reasons can be addressed without breaking a sweat.
Continue reading for the 6 Reasons why there is a Venmo Payment Issue.
"Venmo There Was An Issue With Your Payment" is displayed after a failed Venmo transfer. Venmo payment gets declined if there is – an insufficient balance, the wrong card number, or it has reached the Venmo transaction limit. Contact your bank or credit card company to fix the issue.
Inconveniently, since Venmo's payment errors don't provide any indication as to why the payment has been declined, there isn't a reliable way to know for sure the reason behind your declined payment.
That being the case, you'll have to go over a checklist of potential reasons, marking them off one by one until your payment is processed.
In this post, we guide you through all of the potential reasons behind declined Venmo payments. We also highlight how to go about addressing each reason. So, let's get down to brass tacks, eh?
Read: Can you Delete Venmo History? How to Clear Transaction History on Venmo?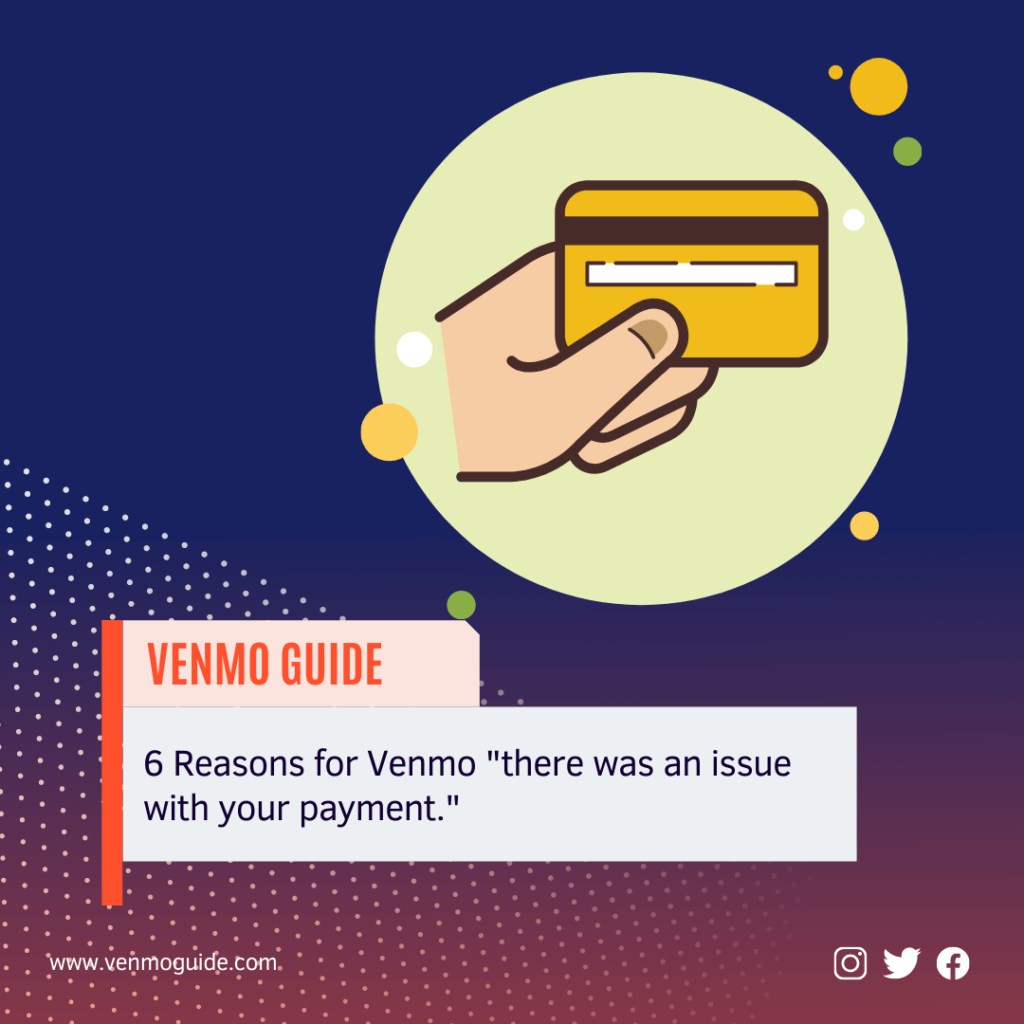 Six Reasons Why There Was an Issue With Your Venmo Payment
Before we go over the reasons behind declined Venmo payments, we'd like to point out that you can always refer to Venmo's customer service to help you with your problem.
The thing is, Venmo's customer care representatives take forever to answer the phone. Not only that but you'll most likely be transferred to a foreign call center. Quite an aggravating experience if you ask us.
That said, here are the six potential reasons why there's an issue with your Venmo payment:
1. Outdated Payment Information
Outdated credit/debit card information is probably the most common reason behind declined Venmo payments. So, first, check to see if your card has expired. If it has, you'll have to file for a replacement card.
When you receive your replacement card from your bank, make sure to update your Venmo account with the new card's expiration date.
If the card you used to sign up for Venmo hasn't expired yet, it won't hurt to double-check the card's information before you move on to the next potential reason.
Read: 6 Reasons For Venmo There Was An Issue With Your Payment Issue Fix?
2. Flagged Payment Transaction
Some banks can be extra cautious of fraud and scammers, especially when it comes to digital wallets like Venmo and Cash App. Such banks tend to flag transactions that they view as unexpectedly large.
This may be the case you're dealing with if you're attempting to make a significant payment, especially if you're someone who doesn't use Venmo very often.
In this case, you'll need to reach out to your bank and inform them of the transaction so that they unflag your account and allow the payment to be processed.
Read: Can You Have More Than One Venmo Account? Create Multiple Venmo Accounts
3. Insufficient Account/Card Funds
Another common reason Venmo payments get declined is insufficient credit/debit card or bank account funds. Please note that, unlike many digital payment platforms, Venmo doesn't allow its users to overdraft.
So, before attempting to make a Venmo payment, you need to make sure you have enough funds in your bank account to cover the amount. If you do have enough funds, you can check this potential reason off the list.
4. Bad Internet/Data Connection
As Venmo is a digital payment platform, it requires a reliable internet connection to process payments through Wi-Fi or cellular data.
If you have an unreliable connection, it's highly likely that the reason behind your declined Venmo payment is your internet connection timing out while Venmo is trying to process your transaction.
If you suspect that this is the case you're dealing with, we recommend rebooting your router or modem. If you're using cellular data, try switching airplane mode on, then wait a few seconds before turning it on again.
If you're still unsure, you can try making the transaction on an entirely different internet connection—say a friend or a neighbor's connection. If the transaction is processed, then you know there's a problem with your connection.
Read: Can I Use Chime With Venmo? Does Chime Work with Venmo?
5. Damaged Debit Card Chip
If you're attempting to make an ATM transaction using a Venmo card and keep receiving errors, you may be dealing with a damaged debit card.
How do payment cards get damaged, exactly? Well, if you look at your payment card, you'll see a gold chip. That gold chip, which is a magnetic stripe, is the heart and soul of your card.
If the chip gets scratched or damaged, the card will become unreadable. This, in turn, renders the card useless. In this case, you may have to request a replacement payment card.
6. Non-responsive Venmo Servers
If you've checked off all of the above-listed potential reasons and you're still experiencing problems with your payments, then it's most likely a problem with Venmo's servers.
Venmo is widely used across the country, so it's not uncommon for its servers to start glitching from time to time due to being overloaded. In this case, your best bet is to wait a few hours before trying again with your transaction.
Read: How to Unblock on Venmo? How to Unblock Someone on Venmo?
Final Thoughts: Venmo There Was An Issue With Your Payment
Venmo is one of the most versatile digital payment platforms out there. You can use it to send and receive money, split the cost of a particular item or an event you've attended, or reimburse specific merchants. However, as with any service provider, Venmo isn't without faults.
One of the most notable downsides of using Venmo is that it never indicates the reason behind any declined payment, leaving you scratching your head trying to figure out what's wrong.
You can dial up Venmo's customer service and request help, but it'll most likely take their representatives ages to pick up the phone. And even if they do, they'll probably transfer you to a foreign call center.
To avoid this hassle, we recommend you go over the above-listed potential reasons behind declined Venmo payments. Then, check them off one by one until your problem is solved.
Read: Can You Have Two Venmo Accounts With Same Bank Account?
If your Venmo account is temporarily frozen due to a failed transaction, we recommend referring to Venmo's guide on how you can unfreeze your account.
Good luck!