Suppose you are running out of Cash and need to withdraw from your Cash Card at nearby ATMs?
Well, then, I will try and guide you step-by-step on how you should go about it from – fees, withdrawal limits, supported ATM, and avoid paying additional fees.
To Use Cash App Card at ATM: Insert your Cash App card into the machine. Select cash withdrawal. Enter the amount that you want to withdraw. Now enter your Cash App PIN. The ATM will dispense your money in a few seconds.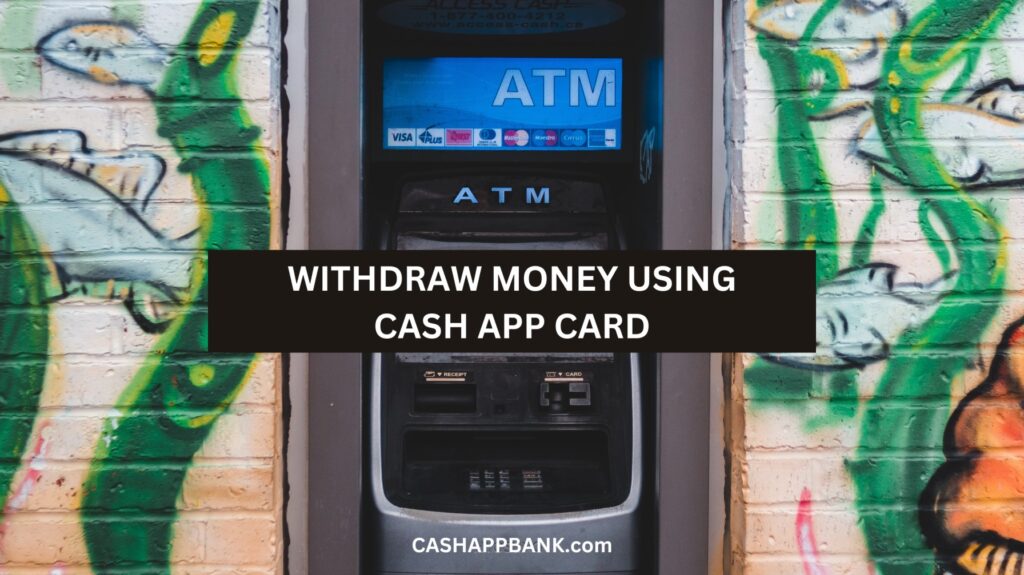 How to Use Cash App Card at ATM?
You first need to find an ATM that accepts Visa cards. Most ATMs do accept Visa, but it's always good to double-check before you try to use your Cash App Card.
Step 1: Insert Your Card at ATM
Go to an ATM that accepts Visa and Insert your Cash App Card. Simply slide your card into the ATM and wait for it to be read.
Step 2: Enter Your PIN
After a few seconds, a screen will display prompting you to enter your PIN. This is the same PIN that you use for your Cash App account. So, make sure you remember it!
Step 3: Choose Your Transaction
Now it's time to choose your transaction to withdraw cash. Choose the "Withdraw" option.
Step 4: Enter Your Amount
By the way, you should know that there is a limit to how much you can withdraw per transaction. For your protection, your Cash Card ATM withdrawals are limited.
Step 5: Wait for ATM to Dispense your Cash
Once you've chosen your amount, the ATM will dispense your cash. Be sure to take your cash and your card before leaving the ATM.
Cash App ATM Fees
| Fee Description | Amount |
| --- | --- |
| Cash App ATM Withdrawal Fee | $2.50 |
| Operator Fee (Out-of-Network ATMs) | Varies by ATM owner |
| Fee Waiver with Direct Deposit | $2.50 (waived with $300+ monthly direct deposit) |
| In-Network ATM Fee | $2.50 |
| Avoiding ATM Fees | Set up direct deposit with Cash App for fee waiver |
Can you Check your Cash App Balance at the ATM?
No, you cannot check your Cash App Card balance at an ATM. It will also display as $0.0 and you can only use your App or visit the website to check your balance.
The reason why it shows you $0.0 is that the ATM is not connected to the Cash App server.
Does All ATM Support Cash App Card?
Almost all the major and authorized banks' ATMs support the Cash App card. It means you can use your Cash App card anywhere MasterCard or Visa cards are acceptable for cash withdrawal.
Plus, the procedure to cash out is almost the same.
How to Find an ATM Nearby for Cash Card?
Open the Cash App on your phone.
Tap on the "Cash Card" tab at the bottom of the screen.
Select "Find an ATM" and allow the app to access your location.
The app will show you a map of ATMs near you that accept Cash App cards.
Another way to find an ATM near you is to use an ATM locator website.
These websites allow you to search for ATMs by location and filter the results by the type of card you have.
Here are a few popular ATM locator websites:
Visa ATM Locator
Allpoint ATM Locator
Cash App ATM withdrawal limit
The Cash App withdrawal limits for Cash Card ATM transactions are as follows:
$1,000 per day
$1,000 per ATM transaction
$1,000 per week
The same is applicable to cash withdrawals.
These limits reset at specific times:

Daily reset: 7 PM CDT
Weekly reset: Saturdays at 7 PM CDT
Monthly reset: 7 PM
Can You Withdraw Money from Cash App Without a Card?
No, it is not possible to withdraw money from Cash App Card at an ATM without a Card. There are no Cardless withdrawals at the moment, unlike traditional banks.
In case if you have lost your cash card or it has been damaged then you can report it to Cash App customer service. Before that, you must disable your card with the help of the below-mentioned steps:
Launch Cash App mobile application.
Tap the card-shaped icon.
Now select the image of the cash card.
After that use the toggle button to turn off your card.
As you have disabled your card now you can contact the Cash App support.
Can I Add Money to Cash App Card at ATM?
No, Cash deposit at ATM feature is not available. Cash App is not a bank this feature is far from the reality at the moment.
However, there are many banks that allow their users to add money to a bank account at ATMs.
How to Avoid Paying for Cash App ATM Withdrawal Fees?
You can avoid paying additional ATM fees by taking advantage of unlimited free withdrawals at in-network ATMs. Cash App also offers instantly reimbursed out-of-network withdrawal per 31 days for customers who get $300 or more in paychecks directly deposited into their Cash App in a given calendar month.
If you need to withdraw cash frequently and don't want to pay ATM fees, consider setting up direct deposit with your employer or transferring funds to your Cash App account from a linked bank account.
This will help you meet the $300 direct deposit requirement and qualify for the fee-free withdrawals.
ATMs that Support Cash App Card
The good news is that since Cash App Card is a Visa debit card, it can be used at any ATM that accepts Visa. That means you can use your Cash App Card to withdraw cash from any traditional ATM.
To make things easier for you, i've compiled a list of some of the major ATM networks in the USA that support Cash App Card. Here are some of them:
Chase
Bank of America
Wells Fargo
Citibank
PNC Bank
TD Bank
Capital One
Of course, this is not an extensive list, but it should give you an idea of some of the major ATM networks that support Cash App Card.
How to Find an ATM Nearby for Cash Card?
Open your Cash App and tap on the "Cash Card" icon located at the bottom of the screen.
Once you are on the Cash Card screen, you will see an option to "Find an ATM." Tap on it.
Cash App will then show you a map with all the ATMs near your location. You can also search for an ATM by entering an address or a zip code.
Once you have found an ATM that suits your needs, you can use the options provided by Cash App to get directions or copy the address into your preferred navigation app.
Before you head out to the ATM, make sure you have your Cash App Card with you. You will also need to know your Cash PIN to withdraw cash from the ATM.
And that's it! Finding an ATM near you with Cash App is easy as pie. Just follow these simple steps, and you'll be on your way to withdrawing cash in no time.
How to Activate Your Card to Use at ATM?
Open the Cash App on your phone
Tap on the Cash Card icon at the bottom of the screen.
Click on the "Activate Cash Card" button and follow the prompts.
You will be asked to scan the QR code on your card. If you don't have the QR code, you can tap on the "Missing QR Code" button and enter the CVV number on the back of your card.
Once you've scanned the code or entered the CVV, your card will be activated and ready to use.
Cash App ATM Troubleshooting Issues
Let's say you have some trouble using your Card at the ATM, there are a few possibilities why that can happen.
1. Card Not Working
I know this can be frustrating, especially if you need cash urgently. If your card is not working, here are some things you can try:
Make sure your card is activated. If you just received your card, you need to activate it before you can use it.
Check your internet connection. Your Cash App card needs a proper internet connection to work properly.
2. Incorrect Pin
This is often overlooked as humans make errors all the time. To avoid this issue, make sure you properly and slowly enter your PIN. If you forget your PIN, you can reset it in the Cash App settings.
Here's how you can reset your Cash PIN:
Tap the profile icon
Click Privacy & Security.
Tap Change Cash PIN.
Confirm your new Card PIN.
3. Insufficient Funds
I mean come on?
This is not a problem that is technical or anything, we all roughly know our balance.
If you're trying to withdraw more money than you have in your account, your transaction will be declined.
So, you need to make sure you have enough funds in your account before trying to withdraw money from an ATM.
More Cash App Tutorials